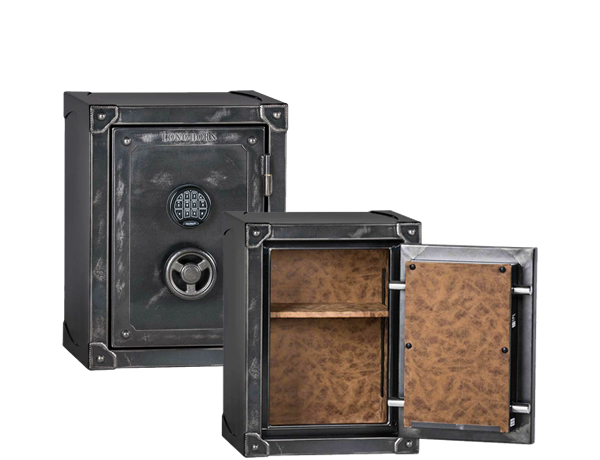 Rhino Longhorn LSB2418 Furniture Safe
PRODUCT DETAILS: This Longhorn® safe look like something out the 1800's. Part art, part furniture, and all security with 60 minute fire protection. Each safe is hand antiqued and distressed to accentuate the natural grain and variations in the steel, producing an heirloom quality piece for your home or office! Limited One Year Warranty
Longhorn Model LSB2418, 130 lbs, Home/Office Safe
Boasting a sleek 19th-century design, this furniture safe adds just the right amount of style to any kind of room. The device is equipped with a host of safety features that include anti-punch and anti-drill bolt works, an internal anti-tamper clutch and a heavy-duty, 14-gauge formed steel body.
Fire Protection:
A full 60 minutes of protection at 1400°F
Advanced protection with 2 layers of 5/8″ fireboard in the ceiling, 1 layers on the walls, floor, and door
Heat activated door seal expands up to 7 times its size which seals the door edge to help keep out heat and smoke
Security Features:
Internal Anti-Tamper clutch
Anti-Punch and Anti-Drill Boltworks
Recessed 14 gauge composite door with external reinforcement ring for pry-point protection
Heavy Duty 14 gauge formed steel body with external corner reinforcements on critical attack points
Large door bolts (1.00″ diameter), 2-sided protection (4 door bolts total)
UL Listed commercial-grade Type 1 electronic lock
CA DOJ Firearm Safety Device
Style and Function:
Distressed leatherette interior fabric
Plush adjustable shelving and interior walls
3-spoke cast iron hand wheel
130 lbs of total weight.
Dimensions:
24 inches in height
18 inches in width
16 inches in depth
(24″H x 18″W x 16″D) not including handle