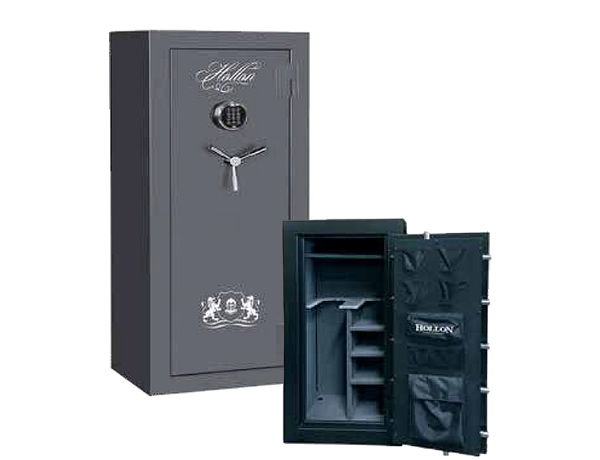 Hollon CS-24E Gun Safe
Choice of S&G Group 2 Dial Lock or S&G UL Listed, Type 1 Rated Electronic Lock. Drill Resistant Hard Plate.
Hollon Crescent Shield Safe Series | Assembled in the USA. Made with American + Global Parts
With a 75-minute fire rating, Hollon C-24 features extensive fireproof features and can withstand up to 1400 degrees F.
FEATURES:
Free Light Kit Upgrade
Never Sag Vault Door Hinges
75-minute Fire Resistance
12 Gauge Steel
1.5″ Bolts
Deluxe Deep Grey Interior Lining
4 Bolt Down Holes to Secure Foundation
Holds up to 24 guns
570 lbs of total weight.
11.7 Cubic Feet
Dimensions:
59 inches in height
30 inches in width
21 inches in depth
(59″H x 30″W x 21″D)