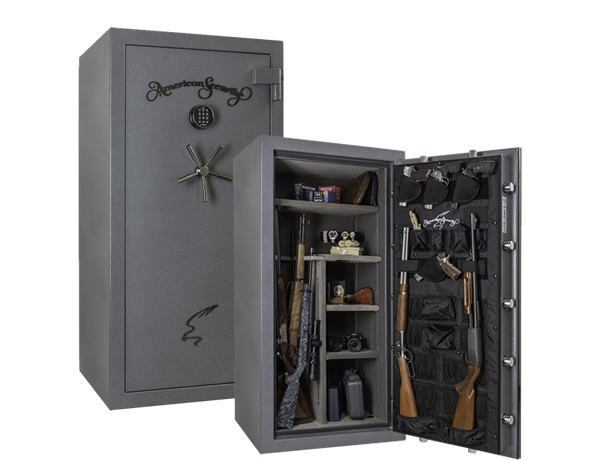 American Security NF6030E5 NF Gun Safe
U.L. certified RSC burglary protection. 1/4″ solid steel plate door. ETL certified 90 minute fire protection. Gunmetal Gray with Black Nickel Hardware. Lifetime Warranty Against Theft and Fire.
COUNTLESS FEATURES – GREAT VALUE
The NF6030E5 has excellent features such as a jewelry drawer, dehumidifier rod, and HIWL 120 LED Light.
SECURITY
¼"-Thick Steel Plate Door
Four-Way Bolt Work
11-Gauge Steel Body
UL Residential Security Container Burglary Classification
14 massive 1½" Chrome Plated Bolts
4 Pre-Cut Anchor Holes
FIRE PROTECTION
Lined with Three Layers of Drywall
90-Minute Intertek Verified Fire Rating
Dual Door Seals to Protect Against Fire and Smoke
FUNCTIONALITY
Industry's Most Flexible Interior
Door Organizer
Storage for Two Long Guns on Door
AC Power Outlet
Holds 14-14-28 + 2 Gun
788 lbs of total weight.
Dimensions:
59 inches in height
30 inches in width
26 inches in depth
(59″H x 30″W x 26″D)