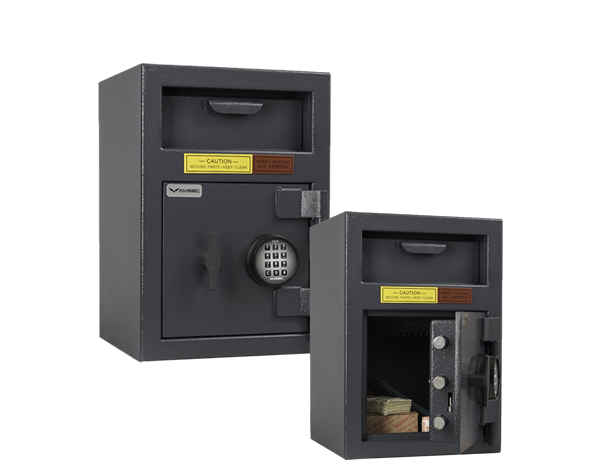 American Security DSF2014 Front Load Depository Safe with Hopper
1/2″ solid steel plate door. U.L. approved locks. Auto door detent. Mail box or rotary drop deposit. Compact to fit in tight places.
COMPACT SINGLE DOOR CASH MANAGEMENT SAFE
Standard Features
The best warranty in the business, one year parts and labor.
Protected by dual "anti-fish" baffles
Locks and relocks protected by a large carburized hardplate.
Auxiliary spring-loaded relocking devices.
Front loading depository fits large package sizes: 4″D x 2¾"W x 10½"L
Recessed, heavy duty 3/16″ depository construction (1/4″ door).
Door
½" thick A36 solid steel plate, recessed ½" to increase resistance to pry attack.
Three 1″ diameter chromed steel locking bolts.
U.L. listed Group II combination lock is standard.
Bolt detent system engages boltwork automatically.
Body
Strong, formed "B" Rate construction made of A36 solid steel plate for improved security and appearance.
Formed door jamb for increased resistance to sledgehammer attack.
Four anchor bolt holes are standard.
79 lbs of total weight.
Dimensions:
20.25″H x 14″W x 14″D