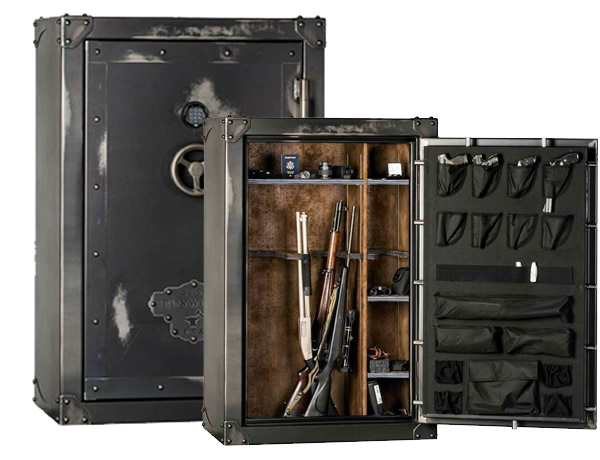 Rhino "Ironworks" CIWD6040X 54 Long Gun Safe
IRONWORKS® safes look like something out of the 1800's. Part art, part furniture, and all security with 85 minute fire protection. Each safe is hand antiqued and distressed to accentuate the natural variations in the steel, producing an heirloom quality piece for your home or office! Limited Lifetime Warranty
IRONWORKS CIWD6040X GUN SAFE 790 lbs, 85 Minute Fire, Deluxe Door Organizer, UL Listed Lock, and Swing Out Gun Rack Compatible
Store your valuables, guns, and crucial documents in an excellent safe with great security features. The natural finish for Rhino's CIWD6040X makes it look unique and remarkable.
Fire Protection: A full 85 minutes of protection at 1400°F, Advanced  protection with 3 layers of 5/8″ fireboard in the ceiling and door, 2 layers on the walls and floor, Heat activated door seal expands up to 7 times its size which seals the door edge to help keep out heat and smoke
Security Features: Heavy Duty 12 gauge formed steel body, 12-gauge composite door, Ball bearing drill plate, Patented F-4 Locking system featuring an Internal Anti-Tamper clutch, Anti-Punch and Anti-Drill Boltworks, Spring loaded re-locker keeps safe secure if lock is tampered with or removed, Large door bolts (1.25" diameter), 4-sided protection (13 door bolts total), U.L. Certified RSC / CA DOJ Compliant, Sargent and Greenleaf EMP Resistant UL Listed Lock
Style and Function: Deluxe door organizer standard for more storage options, Distressed leatherette interior fabric, Plush adjustable shelving and interior walls, Large 3-spoke cast iron hand wheel, Factory installed USB equipped electrical outlet, Predrilled and compatible for our patented Swing Out Gun Rack
Holds up to 54 long guns & 8 handguns
790 lbs of total weight.
Dimensions:
60 inches in height
40 inches in width
25 inches in depth
(60″H x 40″W x 25″D)
Dimensions do not include handle.