As Food Trucks Gain Popularity, Safety Concerns Beg the Question "Do Food Trucks Need Fire Suppression Systems?
The East Coast is no stranger to lines of food trucks taking up residence along park streets and coastlines. Weekly gatherings hold reserved parking for specific trucks that allow customers to find them with ease without having to track them down every time. As these food truck owners go from fully mobile to setting up shop near each other for longer and longer, it's important to understand the safety implications. A normal eatery must be wary of safety concerns within the kitchen at all times, but what happens when the only room IS the kitchen and 12 of them are lined up next to each other?
Safety Still Matters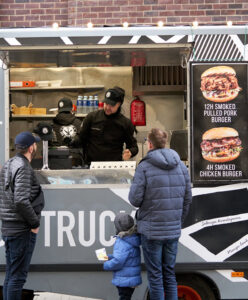 Taking your family out for a quick bite from the best local food truck is something we've enjoyed ourselves over the years as no matter the season, we can always find our go-to stop.
One concern we always have is the level of safety the owner of the truck has installed within the kitchen. Standing only a few feet away, both the cook and customers are at risk in the event of a fire or explosion. Food truck fire suppression is a personal requirement for us to feel comfortable approaching a truck full of hot grease and fire, a scary combination.
What Is Food Truck Fire Suppression?
The fire suppression systems you'll find in food trucks will often mirror what a standard restaurant uses, simply engineered and tailored to fit comfortably within the box of a food truck. The task of keeping up with these mobile food stops has been an uphill race for local and state governments to get up to speed and establish guidelines for these businesses.
Aside from food handling and cleanliness regulations, nearly every local and state government has requirements surrounding safety features. If you've started a food truck, you know that one of the first safety measures installed is an exhaust system. These exhaust hoods help remove the smoke, vapors and airborne particles that appear during the workday. While necessary, they are not a replacement for a true food truck fire suppression system.
Food truck fire suppression systems when installed in your food truck are used to extinguish and contain fires when and if they happen. Fire suppressant chemicals are sprayed throughout the interior of the truck while the system also shuts off any electrical power coming to the area to avoid further combustion and damage. These systems not only help to protect the food truck, but also you, your employees and your valued customers from experiencing any harm while participating in your business.
Choosing to equip your truck with a new fire suppression system is an investment in both safety and your brand as making employees and customers feel safe when visiting your weekly spot is important to repeat customers that look forward to seeing you regularly. On top of fire suppression, we recommend you maintain a Class K fire extinguisher within arm's reach in the kitchen. A fast response with an extinguisher can handle a small fire before the entire suppression system goes off, saving you some time and cleanup while also increasing the service life of your system.
Always Check Local Laws
While food truck popularity has skyrocketed, local and state governments have steadily caught up and nearly all of them require food truck fire suppression systems be installed before opening up shop. Failure to do so can result in fines or loss of licensure. It's vital to check your state and city's laws before setting out on your food truck journey.
We've found that a majority of these laws can be found directly online, saving you time from visiting a local office or getting through to someone on the phone. The details you obtain will also outline the specific details of the required fire suppression system, letting you focus on getting one that works with your budget while also meeting all regulations.
The National Fire Protection Association also has model codes on fire safety within businesses, which added new requirements in 2017-18. Based around fire safety, these requirements include items such as wheel chocks to keep you stationary while cooking, ensuring fryer lids are available to cover vats while in transit and the regular testing and maintenance of portable fire extinguishers.
It's All About Safety
We understand the stress surrounding starting your own business and maintaining a mobile work location. It's important to remember that food truck fire suppression is not meant to be a burden, but a life-saving measure in more ways than one. Many modern suppression systems can also be equipped with gas sensors for food trucks that use liquid petroleum for heating, tackling two different requirements at once.
Don't let the idea of figuring out how to equip your food truck hold you back from living you dream.
At WFX, we're here to help make sure you're checking everything off the list. Whether you're in MD, PA, or surrounding areas – take a moment to reach out to us online today for a consultation.